How to choose the right worktop for you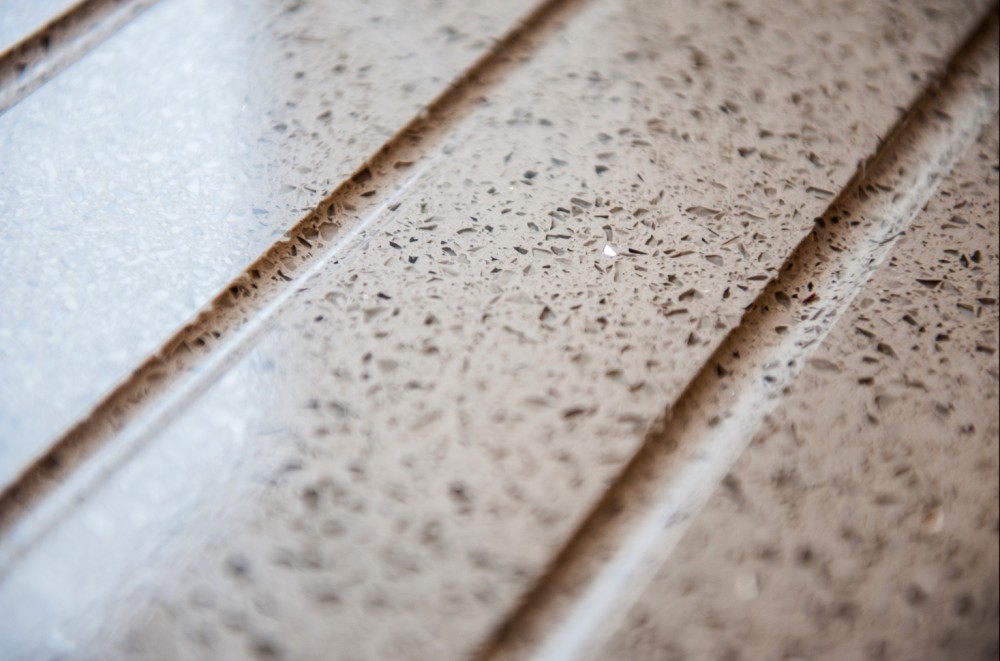 How to choose the right worktop for you
There are lots of worktops on the market to choose from, but which is best for you?  It can often be confusing trying to tell the differences between all the products available as well as trying to weigh up the pros and cons of each.  So we've written this handy little guide to help make sense of it all and aid you in deciding which one is best for your needs. 
Wooden countertops or 'Butcher's Block' looks absolutely stunning in both traditional and modern kitchens alike, whether as a breakfast bar, full worktop or a feature-island surface.  It provides a great workspace for baking, especially when rolling dough, as well as adding warmth and character to the kitchen.  However, wooden worktops are easily susceptible to heat marks and scratches as well as being notoriously high maintenance (like, totally!) as it requires regular oiling.  Read more about how to oil a wooden worktop here
Butcher's block is a gorgeous natural product that can reflect your individuality and add depth to your kitchen.  If you choose to have a wooden worktop, always make sure it comes from a sustainable source.  We use Spekva for all our wooden surfaces, read about their commitment to being environmentally sustainable here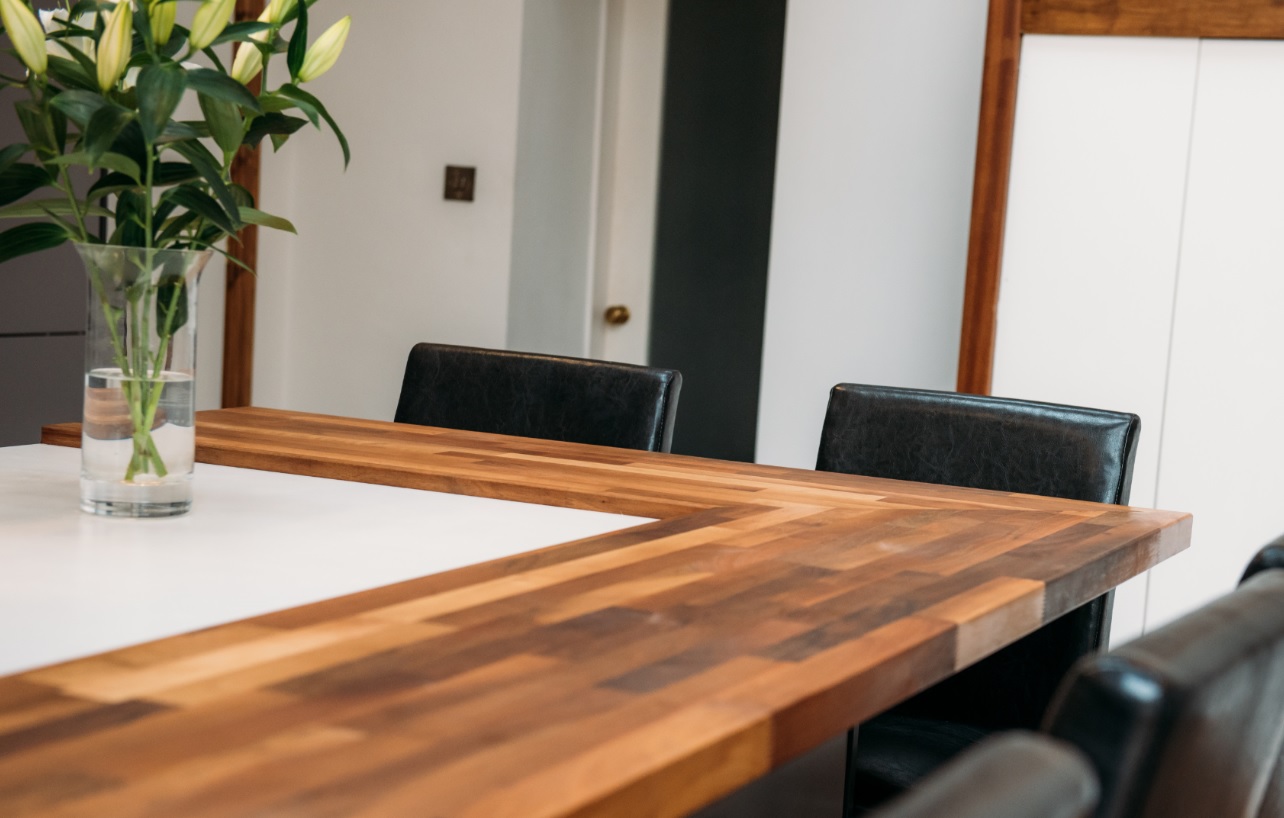 An alternative to granite or marble is quartz.  Quartz worktops are fabricated from natural quartz, one of the hardest minerals found in the Earth, and small amounts of glass or metallic flecks are added to create variety, resulting in beautiful worktops.  This low maintenance alternative comes in a variety of colours and patterns, from natural to concrete effect and suits all design styles.
Quartz  is much better suited to being a kitchen work surface than granite or marble as - without needing to be sealed - it is stain, scratch, heat, acid and impact resistant.  Whilst using trivets is still strongly recommended, briefly placing a hot pan on quartz will not mark it in the way wooden work surfaces would be marred.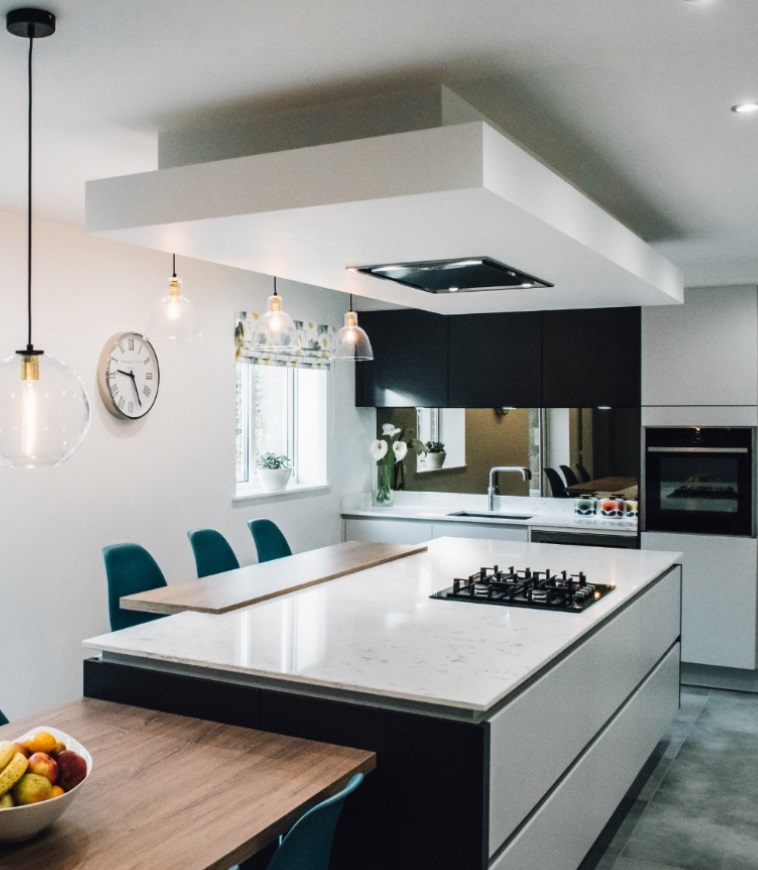 Dekton is a man made, 'ultra compact' work surface made from the components of glass, porcelain and quartz to create an incredibly hard wearing product.  Read more about how Dekton is made
here
Dekton is highly resistant to heat, cold and UV as well as being more hard wearing against impacts than granite, which has previously made Dekton the ideal choice for building cladding.  Of course, this incredible product comes with a bit of a price tag.  As well as a hefty cost, the edges of Dekton worktops can be brittle if manufactured too thin and they cannot be shaped into detailed edges.
 Granite worktops are the surface that most people immediately think of when looking at changing their kitchen.  This beautiful natural product comes in a wide range of colours and variations.  Granite is a porous material and so must be sealed properly and periodically in order to be stain resistant.  When sealed, granite can have a polished finish or a 'suede', textured effect which adds more authenticity and character to your kitchen. 
Granite can be a cost effective worktop option and can also be manufactured with a variety of different edges, although you must bear in mind that as it is a natural product it may vary in colour and pattern to any samples shown to you.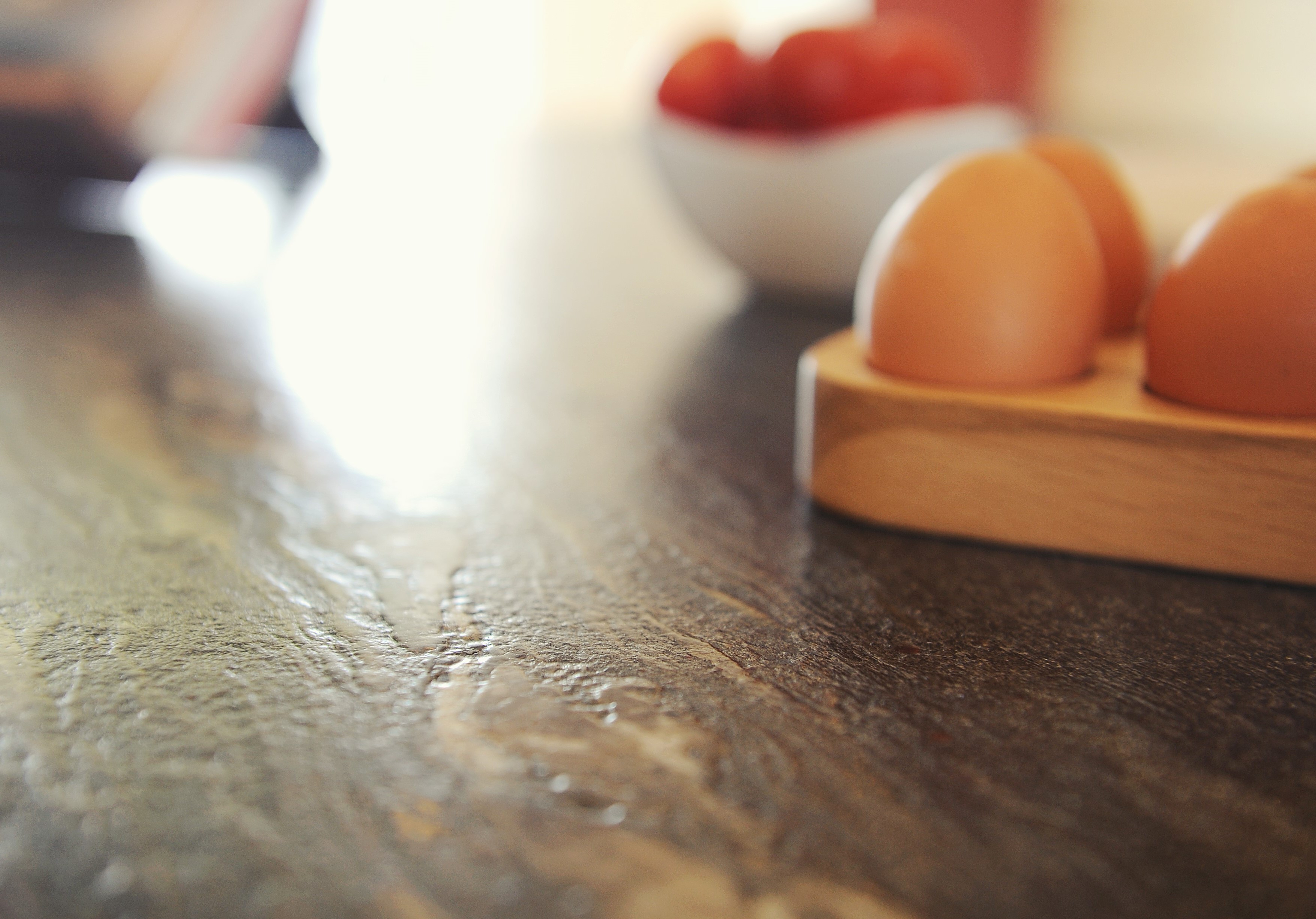 Composed of acrylic polymer and bauxite ore, Corian is a man made, non-porous work surface option.  First created by DuPont in 1967, Corian comes in a huge range of colours and patterns and can be manufactured to curve, appear to bend and have rounded edges.  This is a unique aspect of Corian, unable to be replicated by other products. It is also the most hygienic surface as the inconspicuous seams create a smooth surface with nowhere for bacteria to be trapped.
Corian is more susceptible to scratches than other work surfaces, but as it is a man-made product it is easily repairable particularly when compared to granite or wood.  Whilst having a high resistance to UV, Corian does have a low resistant to heat, so trivets must be used with this worktop.  Made from renewable material, Corian is probably the most environmentally friendly option when choosing a work surface for your kitchen.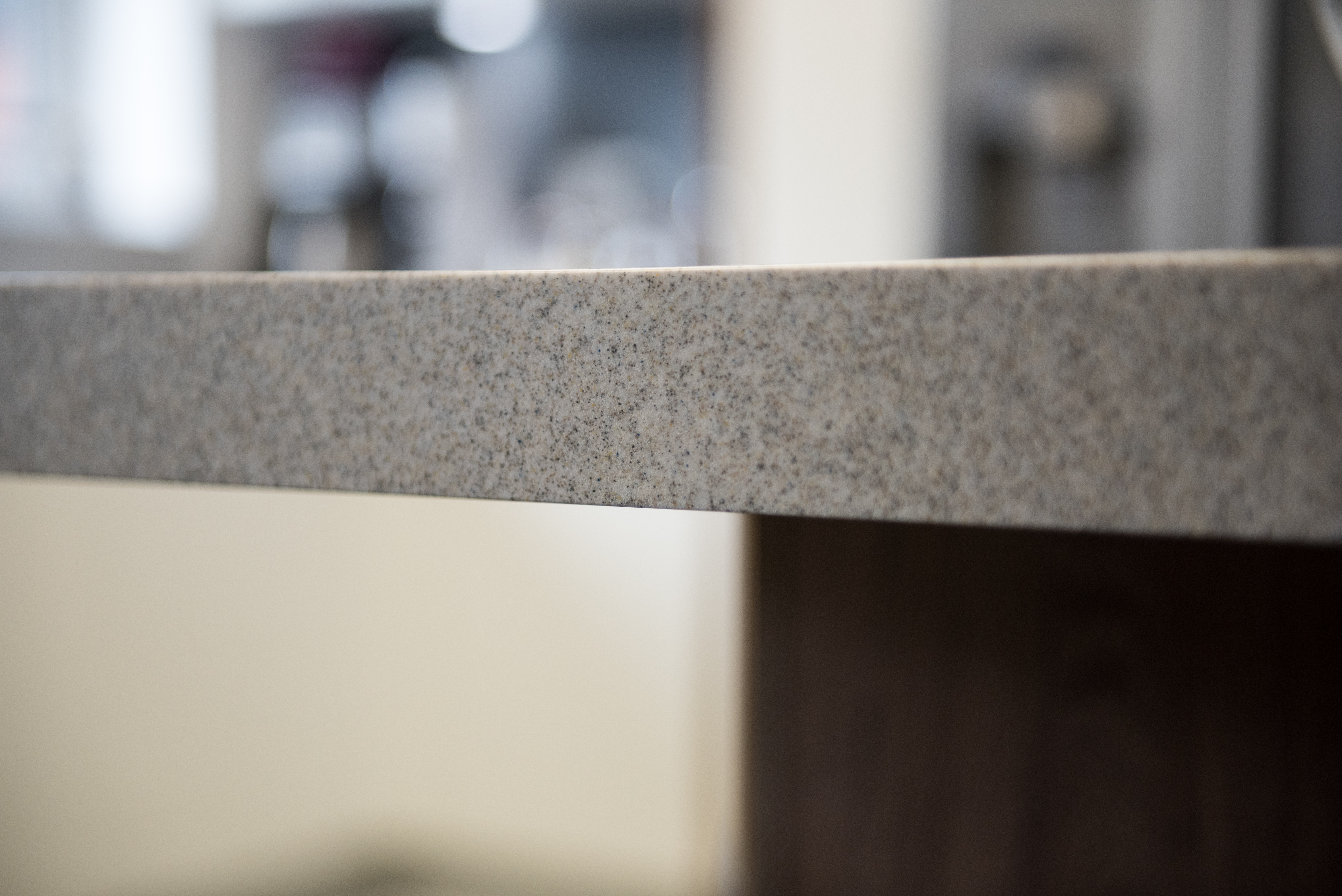 All five of these surfaces have their pros and cons, when choosing a worktop to suit you it is best to take into account what is most important to you.  Natural surface, renewable source, low maintenance or range of colour?  Once you have decided on the one thing you cannot compromise on, you can whittle down the list of suitable products until you find a colour in your chosen material to suit your tastes and design.  Pop into one of our showrooms to browse our wide range of worktop samples, a member of the Markham Webber Design team will be on hand to help you with suggestions and answers to any questions you might have.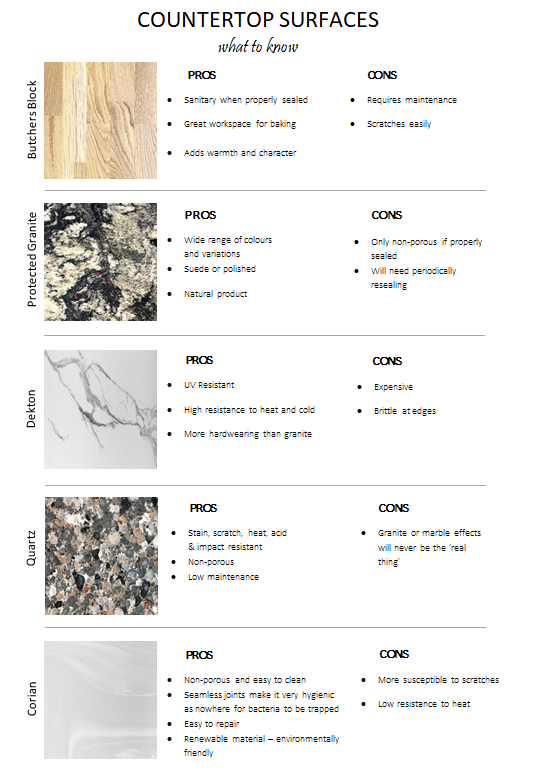 1st August, 2018